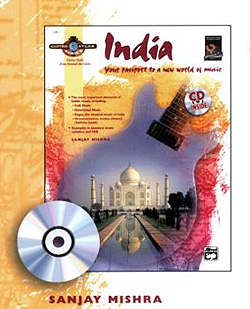 GUITAR ATLAS: INDIA contains arrangements of songs as well as raga scales for improvisation and comes with a CD for beginning to intermediate guitarists. The book is 47 pages and serves as an introduction to the styles of music in India. This page supplements the material in the book.
Published by The National Guitar Workshop. Distributed by Alfred publishing
Buy from amazon.com either by itself or in combination with Sanjay's CDS
Ragas are often depicted in miniature paintings.
Adana Raga


Asavari Raga

Bangal Raga

Basant Raga

Bhairav Raga


Bhairavi Raga

Bibhas Raga


Dipak Raga

Gandhar Raga

Hindol Raga

Kafi Raga

Kakubh Raga

Kalyan Raga

ITC Sangeet Research Academy in India provides useful information through their website. Ragas are grouped by time of performance and organised using a RAGA WHEEL. A good reference for how each raga may sound traditionally, highlighting its characteristic qualities in a brief composition. Most examples are vocal and might not make much sense to a beginner other than to provide a feel for what a composition sounds like in a traditional context in a particular mode.